Elevate your evening routine with this functional refined sugar-free blend, enhanced by clinically-proven active ingredients, real vanilla bean and indulgent superfoods.
Regular price
$34.00
Sale price
$34.00
Unit price
per
Sale
Sold out
💤  Sleep: deep, restorative sleep
😎  Stress: calm and clear mind
🍎  Cravings: stress-related over-eating
Taste

A smooth maple drizzle meets vanilla ice cream. This refined sugar-free remix combines pure Heilala vanilla bean and maple-tasting superfoods for an irresistibly decadent taste.
Nutritional information
How to use

Stir 7g (1 level tbsp / 1 Blue Moodi Latte Scoop) of blend with a splash or hot water. Add a cup of warm or iced milk of choice and enjoy!

For optimal results, consume daily. Best taken when looking for to unwind.

Each bio-based tub is 140g / 20 servings.
Shipping

🇳🇿 New Zealand:

Express 💨  FREE on orders NZ$79+ otherwise NZ$4.90 for urban and $7.90 for rural deliveries. 1-3 BUSINESS DAYS* 

🇦🇺 Australia:

Standard 🚛 AU$9.90. 10-20 BUSINESS DAYS* 

Express 💨 FREE on orders AU$139+ otherwise AU$21.90. 2-3 BUSINESS DAYS*

🇺🇸 USA:

Express 💨 US$29.90. 3-7 BUSINESS DAYS* 

 

*Please allow an additional 2 days for rural addresses and holiday periods. 

Please contact us if we do not ship to your country. For more information, see our shipping policy.
View full details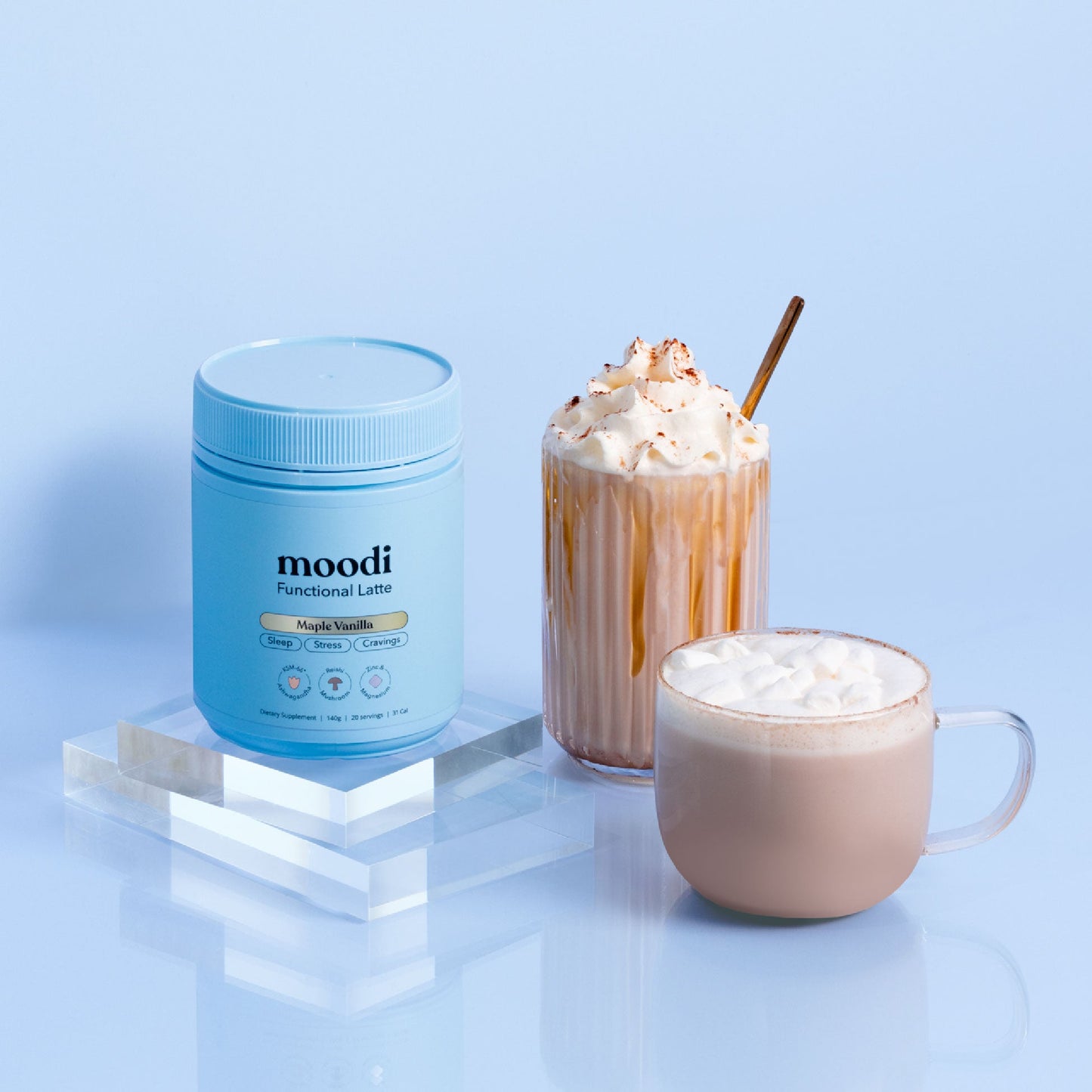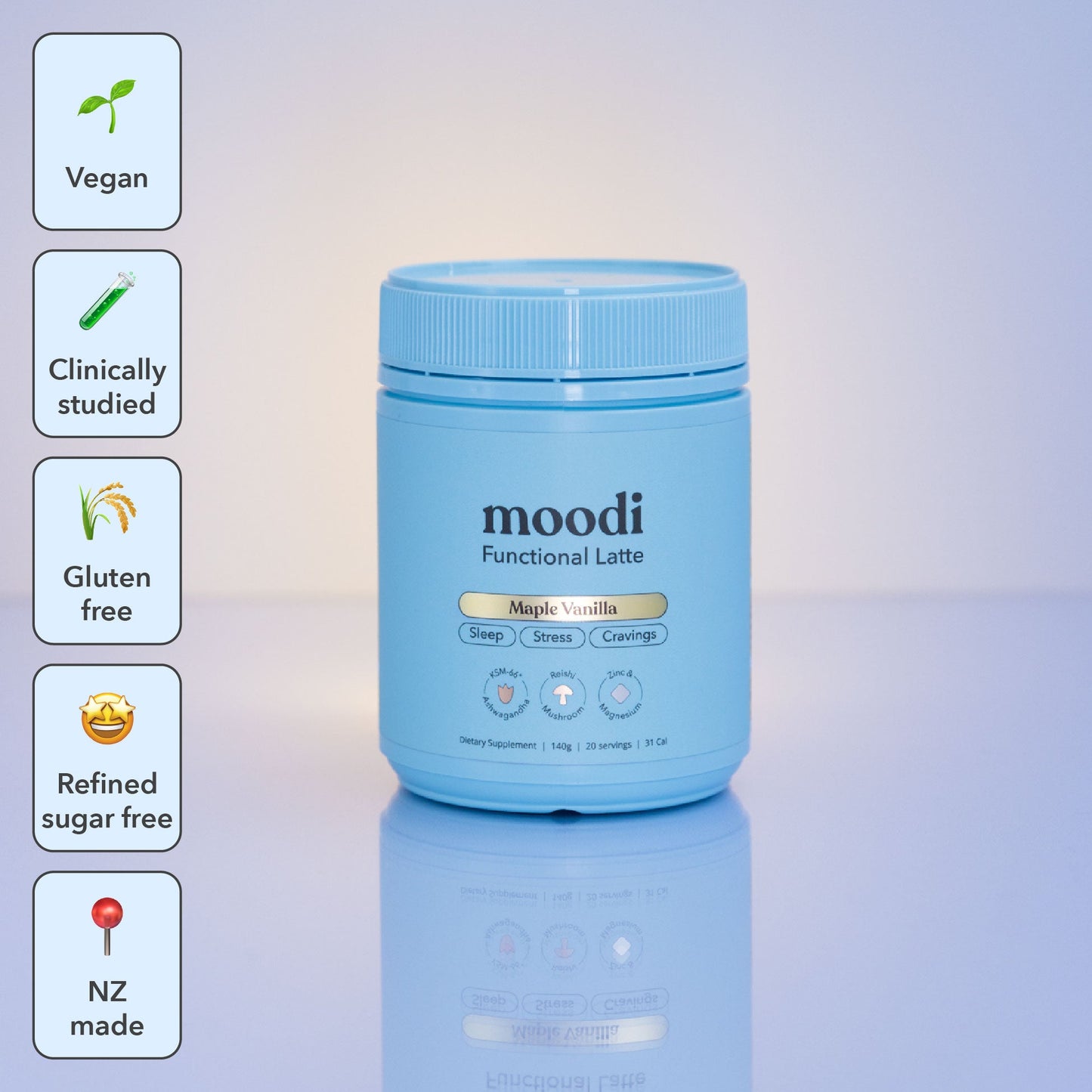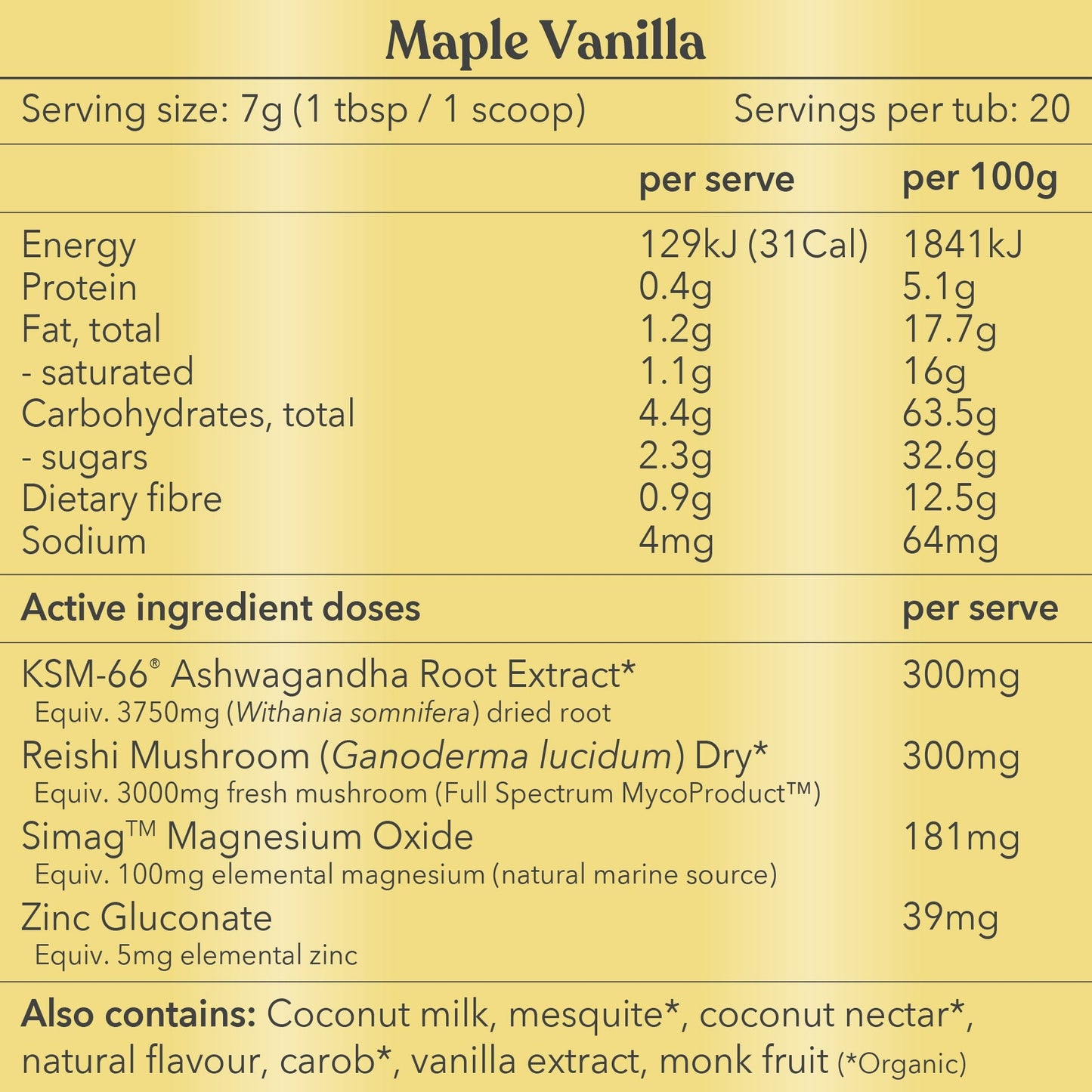 The most delicious way to get to sleep
KSM-66® Ashwagandha

The world's most clinically studied ashwagandha, shown to support deep sleep, balance stress, and curb cravings. KSM-66® has been evaluated in 24 "Gold Standard" clinical trials and is the highest concentration, most bioavailable full-spectrum root extract in the world.
Reishi mushroom

A full spectrum Mycoproduct™ organic mushroom with bio-active compounds known for soothing anxiety and calming the mind to support relaxation for sleep.
Zinc & magnesium

Essential minerals that work in unison to support many key bodily functions, including sleep and recovery.
Heilala vanilla bean

Made using premium Tongan vanilla beans, this extract gives an authentic flavour and aroma to delight your senses. 
Unwind & kick stress in 60 seconds or less
Scoop 1 tbsp into a cup
Add a splash of hot water
Stir together thoroughly
Add warm or cold milk
Sip and enjoy

More than your average cuppa
Clinically studied ingredients & doses
Flavoured by functional superfoods
No refined sugar or caffeine
Packaging made from sugarcane
Answers to your questions
What is a Functional Latte

Take your favourite coffee shop drink, add clinically-proven active ingredients and delicious superfoods, and you've got a Functional Latte — a drink designed to make you feel amazing.
Can I take Moodi while pregnant or breastfeeding?

Please consult your doctor before using Moodi if you are pregnant or breastfeeding.
Is Moodi safe for kids?

Moodi is formulated for adults as there isn't enough research on our active ingredients with children. It's dependent on what their body needs and their age, so to be cautious, please check with a medical professional.
Can I take Maple Vanilla with just water?

Yes, you can! However, we think it's best when taken with milk.
What time of day should I have Maple Vanilla?

You can take it at any time! However, our active ingredients work best when trying to unwind for sleep, reduce stress, or curb cravings.
No sugar? Why use monk fruit?

Monk fruit provides all of the sweetness of sugar, without the blood sugar spike or calories. Plus, it's safe for diabetics!
Is Moodi allergen friendly?

Moodi is vegan and gluten-free. However, trace elements of gluten, soy, dairy, nuts, eggs, and fish may be present.
Are Moodi tubs recyclable?

Yes! The tubs can be recycled where #2 HDPE is accepted, and lids where #5 Polypropylene is accepted.

Our tubs are made from 100% I'm Green™ Sugarcane Plastic in New Zealand. This renewable byproduct of the sugarcane industry has a climate-positive carbon footprint.